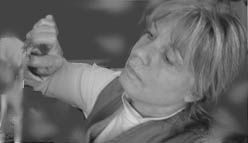 I believe art is a very personal footpath available to each of us. When we take the time to pause and travel down that path, we encounter signposts that can help us find who we are. I strive to provide peaceful moments with my art that helps those who view it to reflect on those signposts and to rest in a quiet realm that we can only find deep within our own heart.
My heart's desires and passions are fed as I strive for technical skill and mastery of watercolor paints and sculpting clays as well as through each bond that develops as I study and embrace every aspect of the subjects I choose to portray in my works of art.
My art is a portrait of my soul and a reflection of my everyday life. My art is therefore the voice of who I am; my experiences, my passions, my desires, my influences, my childhood and my environment. My soul.
My hope is that my art touches your heart as you view it and experience it.
Biography
Sandy Wisecup | The Peaceful Side
With astounding accuracy and attention to detail, watercolor painter and bronze sculptor Sandy Wisecup creates masterpieces depicting rural western life. Horses are her primary focus and her artistic expertise contributes to the soulfulness behind each image. Wisecup has an established connection with horses, as well as the Rocky Mountain landscape stemming from her early childhood, and has fueled her creative spirit. Her highly realistic work involves extensive research, and mastered use of light and color that conveys a unique yet, peaceful simplicity. Wisecup's style gives life to the landscape she so loves, allowing the viewer to join the adventure.
Growing up in Colorado, on a small ranch in the Rocky Mountains, Wisecup cultivated a creative spirit from a young age. There were many adventures to be had among the inspiring and majestic landscapes of her youth, and Wisecup and her family took full advantage.
"My family camped, fished, hunted, and explored Colorado together," Wisecup explains. "We found lots of hidden and forgotten old ghost towns in the mountains, old miner's cabins, and gold or silver claims hidden far from civilization. It was exciting and instilled in me a love for history, exploration, and collecting antiques. I recorded many of the places we discovered in my sketchbooks."
Wisecup grew up fearless and adventurous, but was also quiet and introverted. Her more treasured moments involved her time spent with horses. "One of my earliest memories of drawing was when I was three years old," she recalls. "I would sit on the cabin floor of our ranch to sketch. After I finished my masterpieces I would take them out to the pasture to share with the horses."
With the encouragement of her plein air artist mother and stepfather, Wisecup went on to sell a life size portrait of a neighbor's horse at the age of twelve. In junior high school, a friend's mother, who wrote for a small but nationally distributed magazine, also encouraged her artistic talents by including some of Wisecup's sketches in featured articles. "This experience built my confidence immensely!" She states.
Wisecup's high school lacked any art education courses, but she was known for her talents and served as the artist for the school paper. "I grew up before the computer age, so resources were limited," she explains. "I believed that the only way an artist could pursue art as a career would be as a commercial artist or illustrator and I would have to live in a large city to work in the arts. I disregarded that idea since I didn't want to live in a city and couldn't imagine selling my art in galleries."
After graduating from high school, Wisecup attended college at Trinidad State Junior College in Trinidad, Colorado. Later, she also attended the University of Northern Colorado in Greeley, Colorado, and was astonished at the diversity of art classes offered. "I felt like a kid in a candy shop," she furthers. "I was amazed and must have appeared as Pollyanna to anyone who saw my wide-eyed look of wonder. I took as many classes as I could fit into every semester and loved learning everything I could about creating art. I soaked it up like a sponge. It was in those classes that I realized that I was and always would be an artist no matter what else happened in my life. I discovered that it is an inner quality that isn't dependent upon the method or the direction in which it is expressed."
With the support of her college educators, Wisecup's passion and dedication for art blossomed. Even when she married before finishing college and focused on raising a family, Wisecup continued with commissioned portraits. She also entered sketches in a local art show in Glenwood Springs Colorado, where she won an honorable mention award from Juror Veryl Goodnight. After her children went off to college, Wisecup became serious about creating art again.
"My greatest encouragement at that point came when I entered a watercolor painting in an art competition for the American Academy of University Women and won the Best of Show, George S. and Dolores Doré Eccles Foundation Award, along with an art scholarship. My piece was chosen for the yearlong traveling show around the US. I used my scholarship in the local college where I took watercolor classes, printmaking, and design. I began entering other competitions and won various awards including memberships in art organizations."
Over the years and after workshops in watercolor from artists such as David Drummond, Carl Purcell, and Orsal B. Allred, Wisecup has established a unique style and technique. With a detailed oriented mindset, her many watercolor renditions are filled with realistic depictions of rural life; especially horses, the beloved animal with which Wisecup has spent a lifetime training, riding, and building deep relationships. She strives for accuracy with her subject matter.
"My art is realistic and those who share in my interest of horses and cowboying especially know and recognize correct or incorrect detail. I have collectors who are horse people and correct representation is critical to them. I know horses and their anatomy as well as I know the back of my hand and can feel the shapes in my mind's eye when I am creating."
Wisecup's level of realistic quality is a rare achievement among watercolorists, but the artist delights in her process. "I spend a lot of time sketching before I begin painting," she says. "I was never told that detail shouldn't be attempted with watercolor paints so I plunged ahead unaware. My sculptures are also only started after I do extensive sketches and research. Because I am detail oriented and do lots of preliminary study sketches, I create my work slowly and I don't focus on large production"
Wisecup has drawn on many influences throughout her career for motivation and direction. She greatly admires the work of watercolorist Steve Hanks. She is also inspired by Veryl Goodnight's bronze sculptures of horses, along with Gary Price's human figures - she has studied with both. Artist Philippe Faraut's ability to create lifelike sculptures of the human body has also impacted Wisecup's work. She bears a deep respect for artists Mary Cassat and Rosa Bonhuer for not only their creations but their courage to enter into what was viewed as strictly a man's domain.
Wisecup now resides on a small ranch in south central Utah with a studio sitting atop a small pastoral valley. She is surrounded by the high mountain landscape that inspires her every day and is the one element that runs throughout her body of work.
"I am blessed to be surrounded by the things I love most; horses, family, friends, and the beautiful and vast Western landscape," she states. "I cherish the quiet, uncomplicated messages found in these creations of God, creations He has placed in packages of unpretentious and extraordinary beauty. It is the peaceful side of that beauty that stirs my emotions and touches my soul. My desire is to capture that joy and share it with the viewer through my art."
ARTISTS RESUME
2014
*Women's Museum of California, 44th annual juried art exhibit, San Diego, CA
* Society of Watercolor Artists International Water media Juried Exhibit El Paso, TX
-Award Winner
*Commissioned watercolor painting and bronze sculpture for local Physicians residence
*Wall murals for private and public places, Price UT
PRIOR TO 2014:
PUBLIC ART PROGRAMS
*Commissioned large watercolor painting for Senior Citizens Center of Carbon County, Utah;
-local landscape painting for foyer and a local historic/landscape watercolor painting for the Administratpr's office
*Art For The Parks, Invited artist at Grant/Kohrs Ranch, MT art created for display
- In the Montana Governor's Mansion ,
- One year Traveling Art Show throughout US
* Art for display at Focus on the Family Headquarters, Colorado Springs, CO and
-Reproductions of the art for display nationally and internationally in Pregnancy
Care Centers
* Two Mural Painting for Price Chapel, Price Utah
INVITATIONAL, JURIED, AND MUSEUM ART EXHIBITS-AWARD WINNING- (Partial list)
*Buckingham Palace Mall (Gallery), London,ENGLAND
*Lexington Horse Museum, Lexington, KY
*Kentucky Museum of the Horse, Lexington,KY
*Ronald Regan Presidential Library and Museum, Simi Valley,CA
*Olef Weighorst Museum, Foundation, El Cajon, CA
*Hillgross Galleries, Chicago IL
*Sporstman's Gallery, Atlanta, GA
*National Western Artists Exhibit, Ellensburg, WA
*R S Hannah Gallery, Fredricksburg, TX
*Lillian Berkley Gallery, Escondido, CA
*Rancho Capistrano, San Juan Capistrano, CA
*Saks Galleries, Denver, CO
*Third Invitational Sporting Art Exhibit, Aiken, SC
*Springville Museum of Art, Springville, UT
*Kimball Art Center, Park City, UT
*Pajo's Gallery, Pinedale, WY
*Buffalo Trails Gallery, Jackson, WY
*Covey Center for the Arts, Provo, UT
*William S. Hart Park and Museum, Newhall, CA
*Rockport Center For the Arts, Rockport, TX
*National Horse Expo, San Francisco, CA
* Canyonside Gallery, Wickenburg AZ
*Sedona Art Center, Sedona, AZ
*Western Movie Film Festival, Annual Art Exhibit, Durango, CO
*Diamond And Spurs Art Exhibit and Auction, Boulder Country Club, Boulder, CO
OTHER ACCOMPLISHMENTS
*Cover Artist Horses In Art Magazine
*Featured Artist Horses in Art Magazine
*Contributing Editor, Equine Vision Magazine
*Official Artist for THE WORLD International Horse Games, Lexington, KY
*Official Artist for Australian Shepherd Club of America
*Board Member, Advertising Editor, Women Artists of the West
*Board Member American Academy of Equine Art
* Wall murals for both private and public places
*Utah Art Festival, Salt Lake City, UT
*Kimball Art Festival, Park City, UT
*Poster Artist, Helper Rio Theater
*Poster Art, Carbon County School Board, Book Festival
* Mayors Award of Distinction, Helper Arts Festival
*Art Scholarship, American Academy of University Women
*Art For The Parks Invitational, US Department of the Interior
ART GROUP MEMBERSHIPS:
Women Artists of the West
Society of Equestrian Artists, UK
American Academy of Equine Art
Society of Christian Artists
Society of Watercolor Artists TX