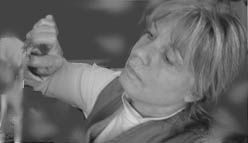 Art has the ability to present a place for us to pause and refresh our spirit, visually and/or audibly. It offers a refuge from the constant mind chatter that results from our often too busy lifestyles as well as calm the stresses we experience daily. Art brings both joy and a sense of peace to our living space or work space by reminding us of who our inner self truly is. May we all discover the unique inner tranquility that can be found in art.
SANDY WISECUP
Watercolor Artist and Sculptor
Sandy Wisecup's award winning watercolor paintings and bronze sculptures have been exhibited in art galleries and art museums across the United States and in London England.
A sampling of Wisecup's exhibitions include the Buckingham Palace Gallery in London, England, the Kentucky Museum of the Horse In Lexington, Kentucky, the Ronald Regan Museum in Simi Valley, California, the Governor's Mansion in Helena, Montana and the Springville Museum of Art in Springville, Utah.
Wisecup has received many awards and honors for her work including Best of Show, Peoples Choice, and Juror awards as well as special honors. Highlights include invitations to participate in Arts For the Parks Artist's Gathering by the United States Department of Interior, Annual Western Movie Film Festival in Durango, Colorado and selection as Official Artist for the Australian Shepherd Club of America.
Sandy Wisecup's realistic and accurate renditions in both watercolor and bronze can be found in private and corporate collections worldwide. She is an active member of the acclaimed national and international art groups Women Artists of the West, Utah Watercolor Society, Texas Watercolor Society, American Academy of Equine Art, Society of Equestrian Artists in the United Kingdom, Women (Artists) Out West, and Christians in the Visual Arts.
sandywisecup.com
ARTISTS RESUME
2020
Best of Show, Western Federation Watercolor Society
2019
Award of Excelence, First Place, Gallery Choice Award, Women Artists of the West
2014
*Women's Museum of California, 44th annual juried art exhibit, San Diego, CA
* Society of Watercolor Artists International Water media Juried Exhibit El Paso, TX
-Award Winner
*Commissioned watercolor painting and bronze sculpture for local Physicians residence
*Wall murals for private and public places, Utah and Colorado
PRIOR TO 2014:
PUBLIC ART PROGRAMS
*Commissioned large watercolor painting for Senior Citizens Center of Carbon County, Utah;
-local landscape painting for foyer and a local historic/landscape watercolor painting for the Administrator's office space
*Art For The Parks, Invited artist at Grant/Kohrs Ranch, MT art created for display
- In the Montana Governor's Mansion ,
- One year Traveling Art Show throughout US
* Art for display at Focus on the Family Headquarters, Colorado Springs, CO and
-Reproductions of the art for display nationally and internationally in Pregnancy
Care Centers
* Mural Painting for Price Chapel, Utah
INVITATIONAL, JURIED, AND MUSEUM ART EXHIBITS-AWARD WINNING- (Partial list)
Western Federation Watercolor Society
Utah Watercolor Society
*Buckingham Palace Mall (Gallery), London,ENGLAND
*Lexington Horse Museum, Lexington, KY
*Kentucky Museum of the Horse, Lexington,KY
*Ronald Regan Presidential Library and Museum, Simi Valley,CA
*Olef Weighorst Museum, Foundation, El Cajon, CA
*Hillgross Galleries, Chicago IL
*Sporstman's Gallery, Atlanta, GA
*National Western Artists Exhibit, Ellensburg, WA
*R S Hannah Gallery, Fredricksburg, TX
*Lillian Berkley Gallery, Escondido, CA
*Rancho Capistrano, San Juan Capistrano, CA
*Saks Galleries, Denver, CO
*Third Invitational Sporting Art Exhibit, Aiken, SC
*Springville Museum of Art, Springville, UT
*Kimball Art Center, Park City, UT
*Pajo's Gallery, Pinedale, WY
*Buffalo Trails Gallery, Jackson, WY
*Covey Center for the Arts, Provo, UT
*William S. Hart Park and Museum, Newhall, CA
*Rockport Center For the Arts, Rockport, TX
*National Horse Expo, San Francisco, CA
* Canyonside Gallery, Wickenburg AZ
*Sedona Art Center, Sedona, AZ
*Western Movie Film Festival, Annual Art Exhibit, Durango, CO
*Diamond And Spurs Art Exhibit and Auction, Boulder Country Club, Boulder, CO
OTHER ACCOMPLISHMENTS
*Cover Artist Horses In Art Magazine
Western Horseman Magazine Featured Artist
*Featured Artist Horses in Art Magazine
*Contributing Editor, Equine Vision Magazine
*Official Artist for THE WORLD International Horse Games, Lexington, KY
*Official Artist for Australian Shepherd Club of America
*Board Member, Advertising Editor, Women Artists of the West
*Board Member American Academy of Equine Art
* Wall murals for both private and public places
*Utah Art Festival, Salt Lake City, UT
*Kimball Art Festival, Park City, UT
*Poster Artist, Helper Rio Theater, Utah
*Poster Art, Carbon County School Board, Book Festival
* Mayors Award of Distinction, Helper Arts Festival
*Art Scholarship, American Academy of University Women
*Art For The Parks Invitational, US Department of the Interior
ART GROUP MEMBERSHIPS:
Women Artists of the West
Utah Watercolor Society
Women Out West, Professional women artists of Utah
Society of Equestrian Artists, UK
American Academy of Equine Art
Society of Christian Artists
Society of Watercolor Artists TX